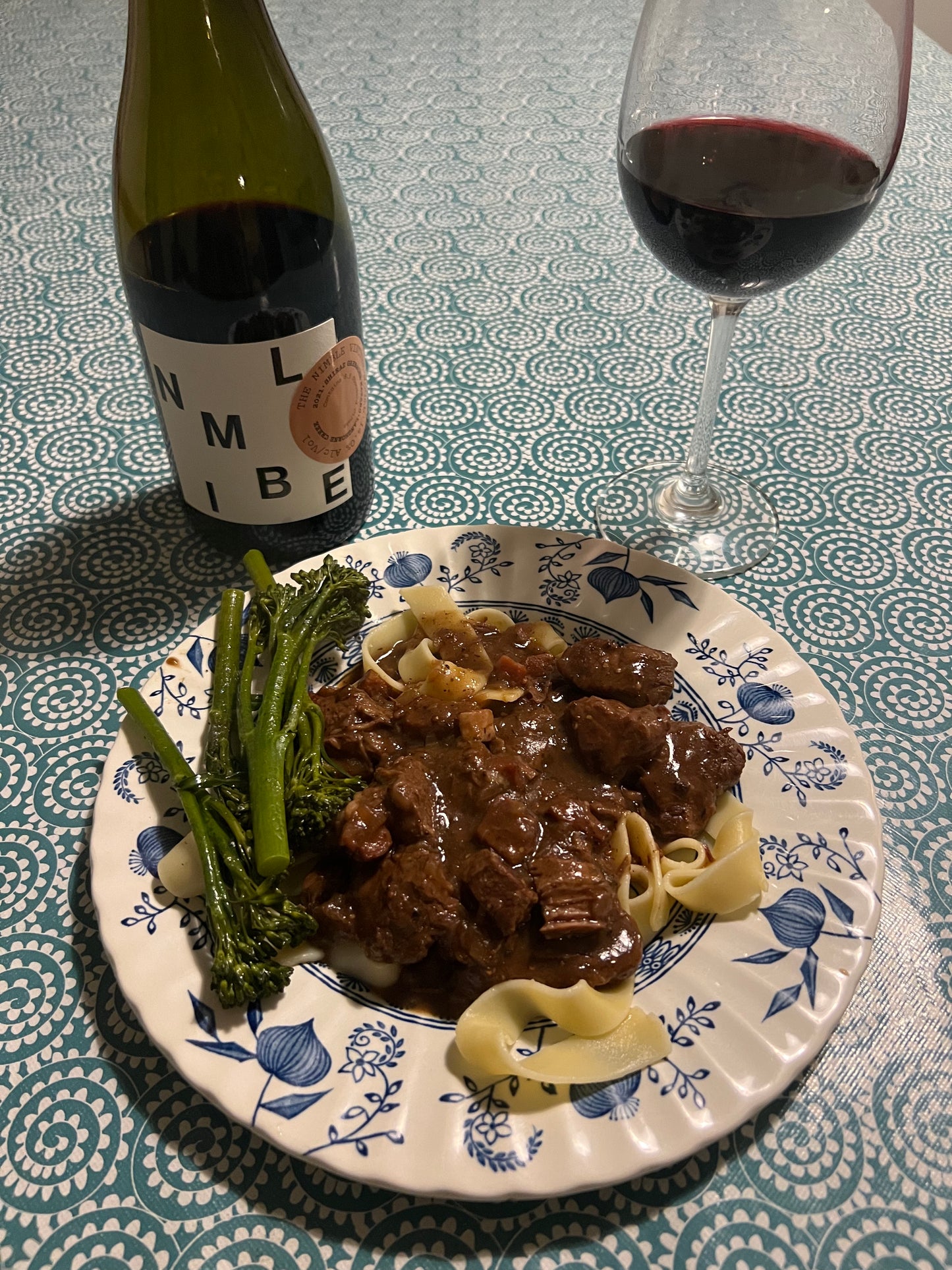 On a recent over-nighter at our beach shack, my Mum cooked up a truly fabulous dish from Nigella Lawson's latest cook book - Carbonnade a la Flamande.  This rich, hearty beef stew paired beautifully with the generous, layered flavours in the 2021 Nimble Langhorne Creek SGM.
Take a little time to cook this for yourself. The result is well worth the effort.
INGREDIENTS:
1 tablespoon goose fat (or oil of your choice)
250 grams smoked lardons or 16 slices smoked bacon, snipped into strips
4 onions (chopped)
2 teaspoons ground allspice
2 teaspoons dried thyme
1½ kilograms shin of beef (in approx. 4-5 cm cubes)
50 grams plain flour
625 millilitres beef stock (cube or concentrate is fine)
4 teaspoons wholegrain mustard
3 tablespoons soft dark brown sugar
625 millilitres dark belgian beer (or other dark ale) *Mum used Coopers Dark Ale
4 bay leaves
1 teaspoon sea salt flakes (or half teaspoon pouring salt)
1 pinch of black pepper
METHOD:
Preheat the oven to 150ºC/130°C Fan/gas mark 2.
Get out a large, heavy-bottomed casserole and, on the hob over a medium to high heat, melt 1 tablespoon fat, or warm 1 tablespoon oil. Add the lardons and cook, stirring frequently, for 5–10 minutes, till they've crisped up a bit.
Add the chopped onion, stirring well so that they're mixed into the bits of bacon, and turn down the heat to low and cook – stirring every now and again – for 10 minutes, by which time the onions will have softened.
Stir in the allspice and thyme and then tumble in the cubed shin of beef and, for ease, with a pair of spatulas or suchlike, toss and turn the meat in the pan.
Shake in the flour and stir to mix as best you can.
Pour the stock into a large jug and stir in the mustard and sugar and then add the beer (if it will fit) before pouring this over the stew in the pan. Stir to mix then leave to come to the boil, add the bay leaves and salt and a good grinding of pepper, then clamp on the lid and stagger to the oven with the heavy pan.
Cook gently for 3 hours, until the meat is fork tender, and – if you can bear it – let it cool, uncovered, before covering and refrigerating, then leaving it to bring joy to another day. Still, it's fabulous enough the day it's cooked and patience is an overrated virtue.