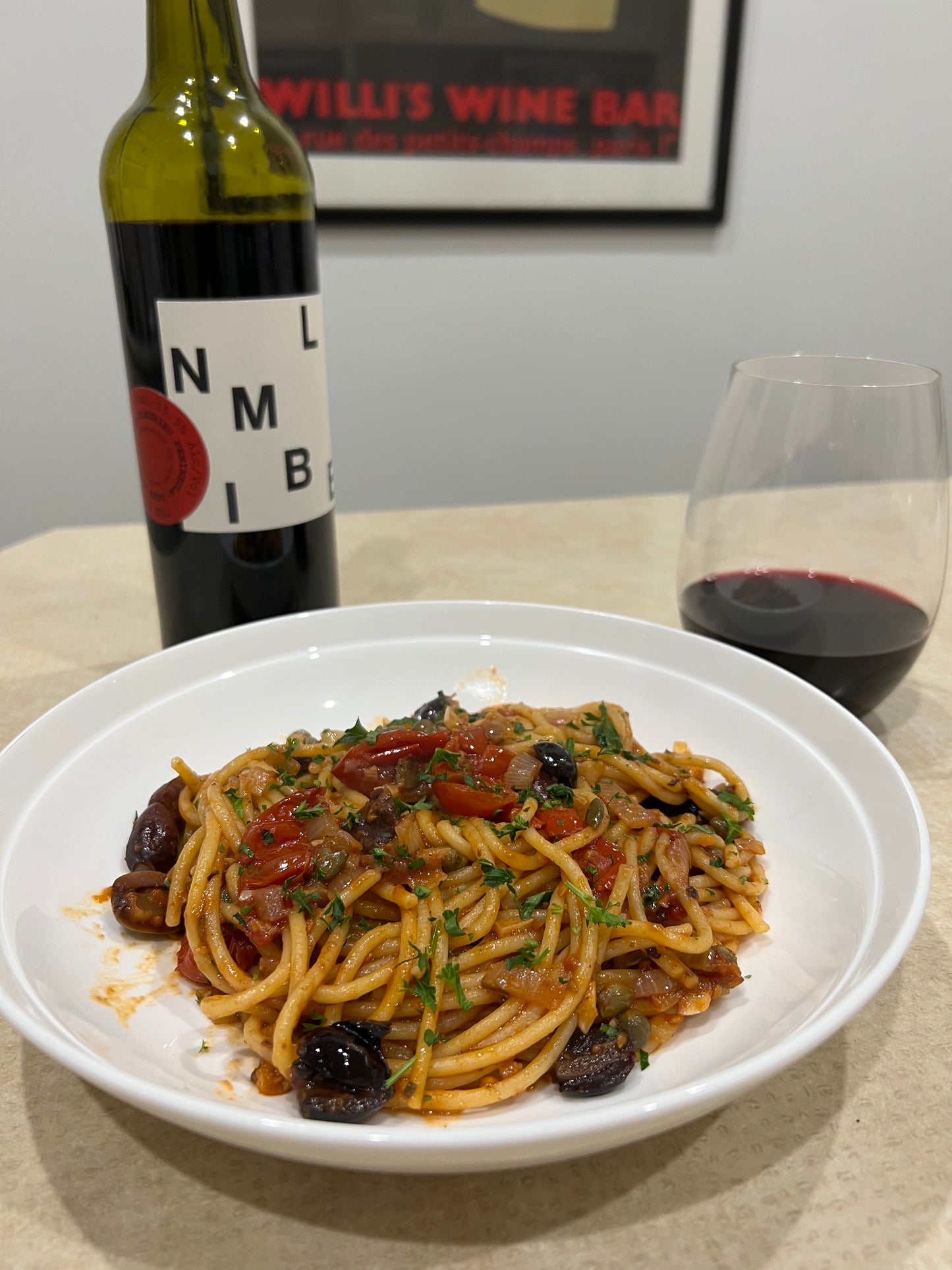 A flavour combination to send your tastebuds into overload.  Spaghetti Puttanesca is a southern Italian staple.  Thought to originate in Naples, you'll find this dish served across southern Italy and Sicily.  My most memorable experience of it was in the medieval port city of Avola, on the south cost of Sicily.  The fragrant, slightly sweet, slightly salty, slightly spicy, slightly fishy flavours of this dish just work so well with a glass of fresh Nero d'Avola, the staple red wine from that region.
The 2021 Nimble Vintner Nero d'Avola is simply divine paired with freshly served Spaghetti Puttanesca.  Here's my version of the dish.  Apologies to any purists if I've not got the original down 100%.  Actually, not sorry.  This is tasty AF.
Ingredients:
3tbsp extra virgin olive oil - Nimble, of course :)
1 onion - finely diced
5 cloves garlic - finely diced (yep, that much!)
5 anchovy fillets - finely diced
1/2 tsp dried chilli flakes (essential!)
1 tin Italian cherry tomatoes - I prefer the Mutti brand
300g kalamata olives - pitted and halved
2 tbsp capers - drained and squished in your hand
Pinch dried oregano
Fresh parsley - finely chopped
350g spaghetti - cooked to instructions
Salt and pepper to taste
Method:
Bring a large pan of salted water to the boil, cook spaghetti until al-dente.
Meanwhile, in a deep frypan, heat olive oil to medium-high and gently fry off your onion, until soft.  Add diced garlic, chilli and anchovy fillets, fry for further minute or two.  Open a bottle of Nimble Nero d'Avola and pour yourself a glass, taking a sip or two of that delicious wine.  Back to the pan, add your tomatoes, gently squashing them with the back of a spatula, add olives, capers and oregano.  Bring to a gentle simmer and allow to reduce while your spaghetti finishes cooking.  Add a ladle of pasta water to the sauce, helping to thicken it.  Season to taste. 
Strain pasta and stir through sauce, adding most of the finely chopped parsley.
Serve in bowls with a further sprinkle of parsley.  Parmesan is optional, though I prefer this dish without it.
Enjoy with what is left of that bottle of Nimble Nero d'Avola.
Salute
TNV